Your Source for Custom EPS Shapes!
EPS Foam Domes
Domes - Like the top part of a sphere, domes create unique structures that stand out from ordinary ceilings.
We can fabricate curves exactly like a half sphere, or we flatten the dome to give it an elliptical look.
usually the foam fills in a square opening and is relieved on the underside with the dome shape.
We have also created dome like shapes for concrete use - but it is unique and limited.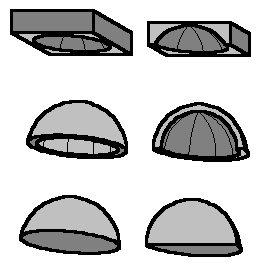 Feel free to browse through our Website
and you will find we have made many improvements