Your Source for Expanded Polystyrene!
Trim, Mouldings, Bullnose, Other Shapes
Trim - A Decorative shape used to add architectural design and style to a structure.

Most trims or mouldings can be any design or shape.

Usually the EPS foam shapes come in 4 foot lengths, and are priced by the lineal foot.

Size and Quantity govern the price.

Most trims and shapes can be made within 1 to 2 days from receipt of order.

Usually shaped or custom size EPS foam orders require a 50% deposit for fabrication, sense the foam will be custom and therefore cannot be restocked into inventory.

We do not make samples for free, if you are unsure if the design will work we can fabricate 1 pc. but you have to pay for it.

There are no minimum orders.

Everybody we sell to comes to us with there own drawings, we do not sell by catalog or stock any shapes because there are no standard shapes. Everybody wants there shape to be slightly different than we have made in the past - whether it be larger, more intricate, or completely different.

We can work from sketches, and pictures, however without a detailed dimensioned drawing it usually takes longer to verify the exact dimensions and the correct proportions to create the finial shape. Thus any order that is placed with proper drawing will be given priority.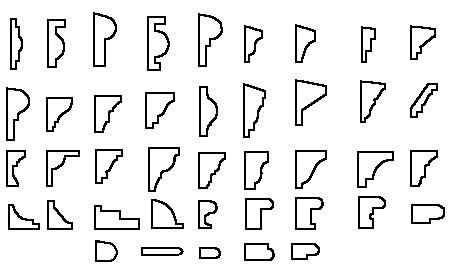 Feel free to browse through our Website
and you will find we have made many improvements